RESEARCH HIGHLIGHT
After discussing with the CEO and setting project goals, we decided on the following approach to explore and address above problems:

1.  Heuristic evaluation identifying potential problems
2. Usability testing with past clients to validate and further identify website issues
3. Report findings and design changes with wireframes and mockups
Heuristics Evaluation
We identified the following potential problems:
1. Clarity

The small, colorful menu icons made the homepage visually busy and did not communicate what each title was - "What We Do" and "What We Got" even had the same icon. Additionally, since the audience of this website wouldn't be familiar with programming languages and platforms, the contents of the bottom section weren't clear since there weren't any labels or descriptions.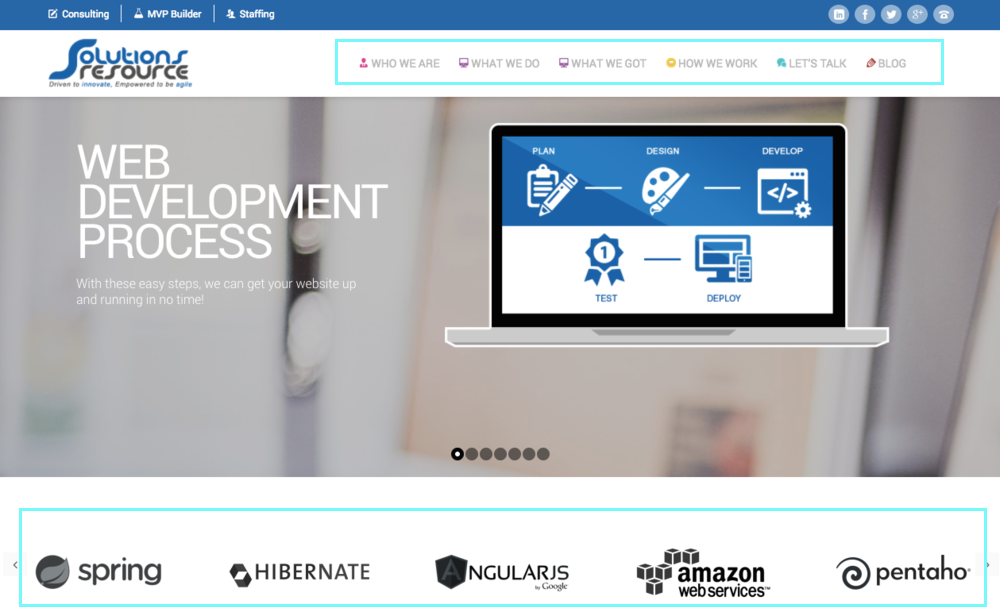 2. Not selling the service

Many pages in the website did not sell the service of the company. For example, the following page mainly displayed knowledge of web design, instead of how Solutions Resource can help you design your website.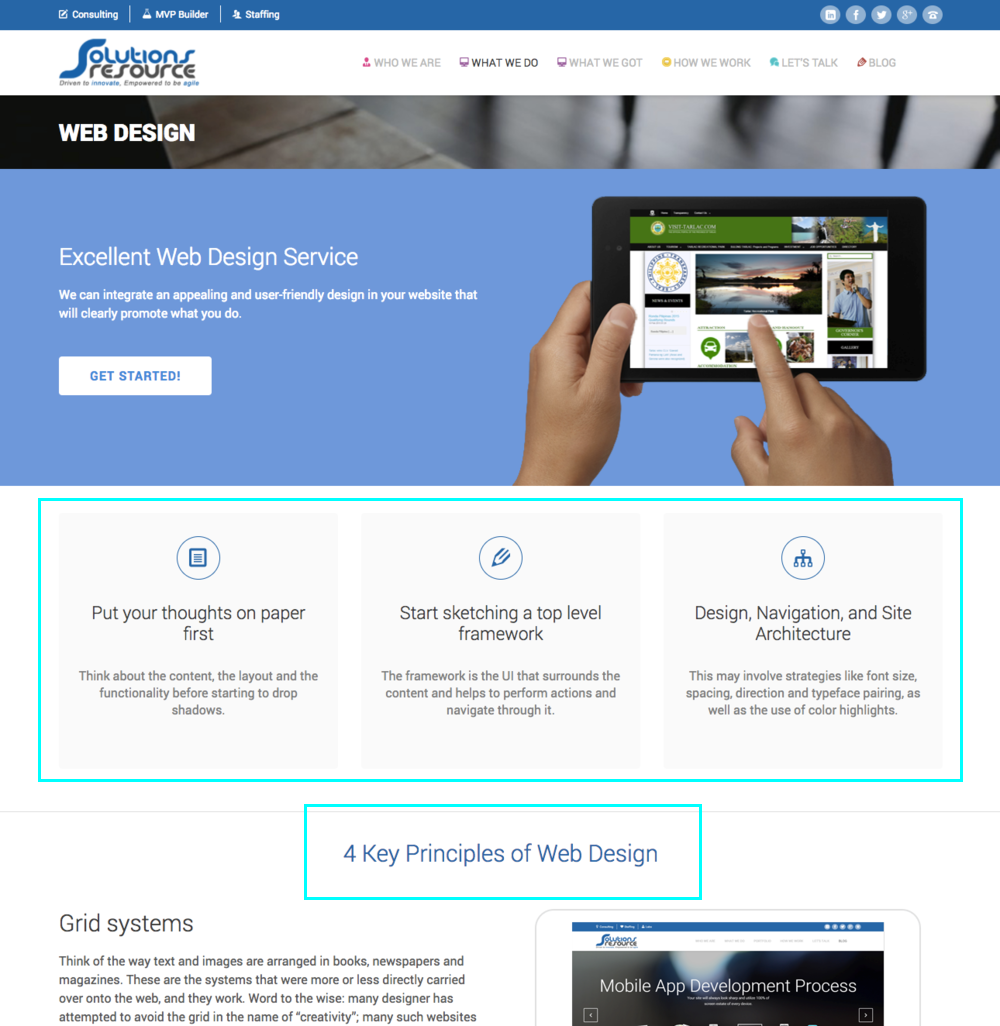 Remote Usability Testing
To validate and further explore the problems of the website, we turned to our users. To suit their schedule, we chose to conduct the test remotely using Google Hangout. We then analyzed the gathered data via affinity diagram.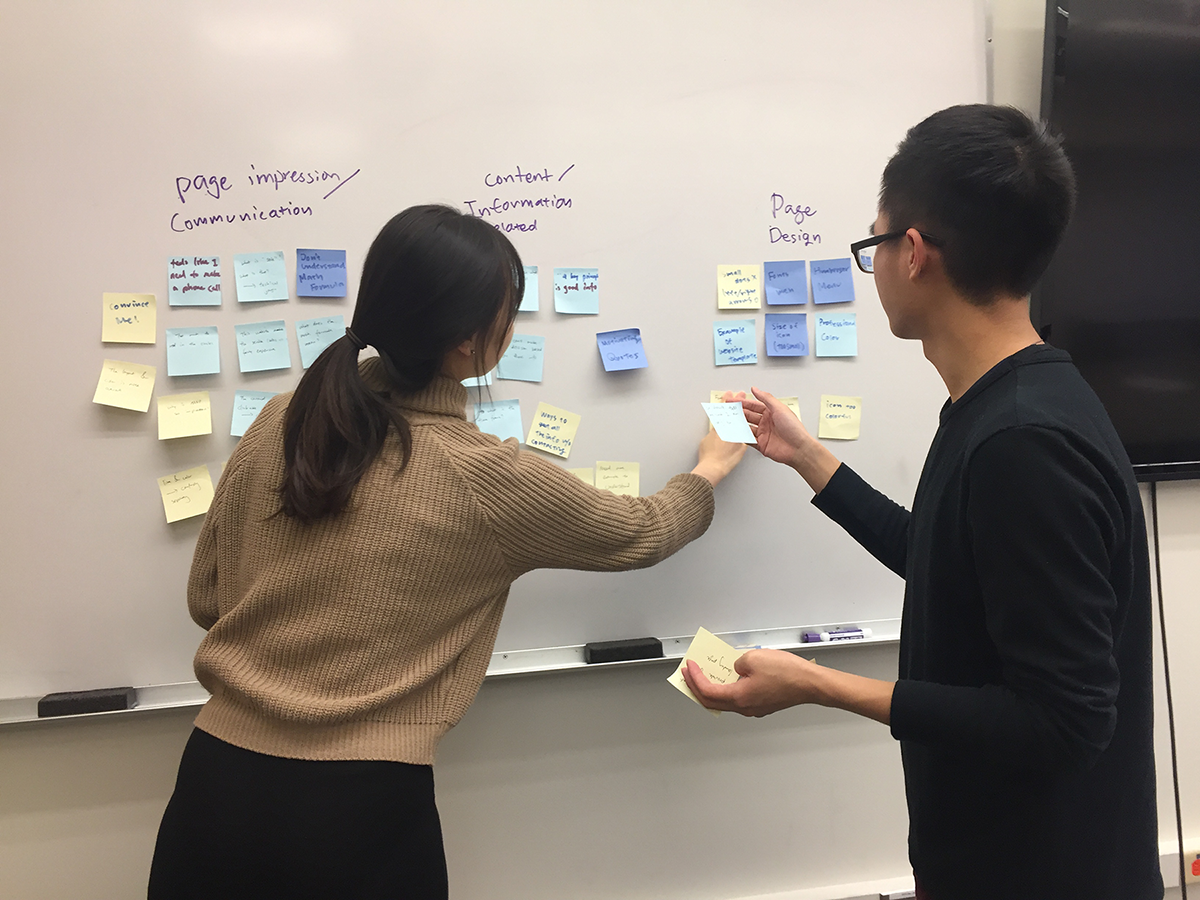 Finding Highlights
1. Unclear Homepage

Participants were confused what the company did because the website used unclear language and only introduced about their service in a secondary menu bar.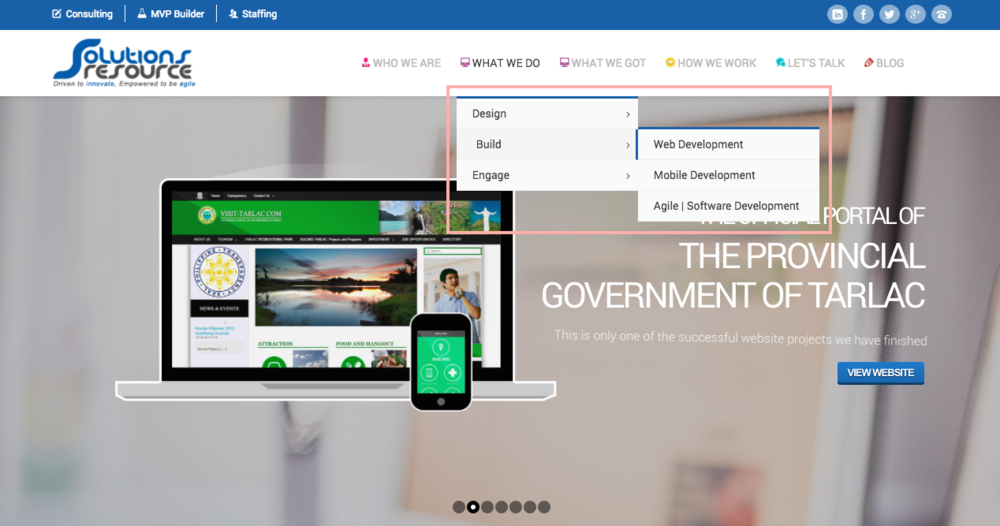 2. Technical Jargon

The website included technical jargon (e.g. high caliber) that participants reported to be confusing - the audiences of the website were not technical.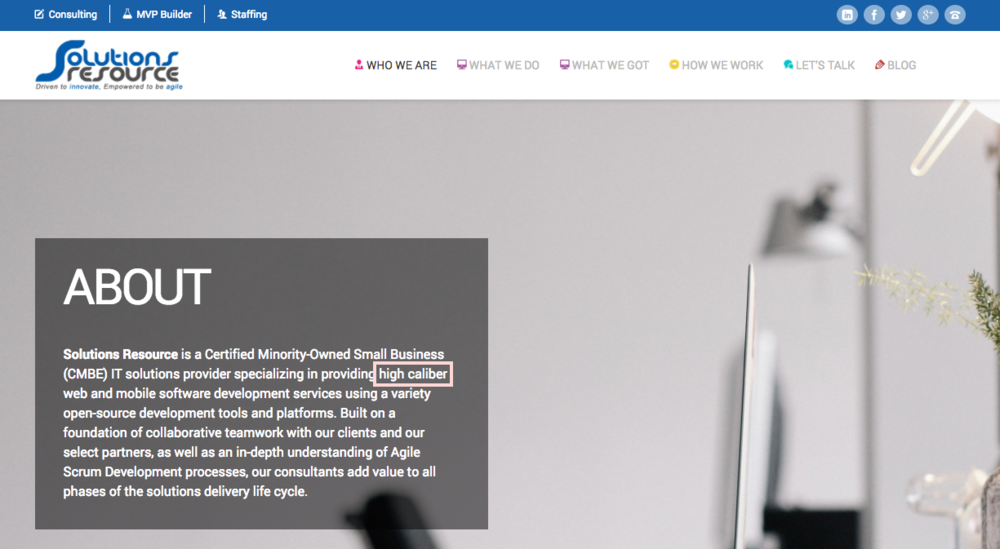 3. Lack of Key Content

Participants reported that they would not purchase the company's service from the website, because the website lacked key content such as pricing, time frame of the project, etc.
DESIGN HIGHLIGHT
Drawing from the research insights, we identified the web redesign objectives:

1.  New homepage need to clearly communicate what the company does
2. All web elements need to serve the purpose of selling the company's service
3. Improve overall visual elements
Sketching & Wireframes
After rounds of brainstorming and sketching, we produced wireframes of the new homepage design. We then presented them to the CEO to solicit feedback. Below are 2 sample wireframes:
High Fidelity Mockup
Integrating CEO's feedback, we generated a high fidelity mockup of the homepage. We also generated a visual template for subpages content, helping the marketing team to generate convincing wording to sell the company's service.